---
3 Outlets Desk Clamp Power Strip with 2.4A USB Charging
CA-310
All-in-one desk clamp power strip surge protector includes three AC outlets and two USB charging ports, it can power up and protect up to five electronics and mobile devices at the same time. With small portable size, it is also an ideal solution for travel power supply.

This power strip surge protector is perfect design for your home, office, travel or workstation. It also provides convenient USB charging power for smartphones, tablets, iPad, laptops, lamp, gaming devices, digital cameras and many other devices.

This slim power strip is usually installed on the desk edge and easy to get access to your power outlets without having to bend down under your desk. It has bracket clamps and screws for mounting options. There is mounting hole on the bracket clamp. You can securely mount it in various applications, including workbenches, wallmounts, countertops and more, which can save desktop space for you.

When you need reliable power but are tight on space, Ahoku All-In-One Power Strip Surge Protector with USB Charging is your first and best choice.
Clamp Mount USB Power Bar, Desktop Outlet Strip with 2 USB Ports
Desk Mount Power Strip Surge Protector, Desk Clamp Power Strip, Desktop Edge Power Bar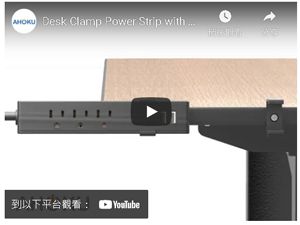 Desk Clamp Power Strip with 2 USB Ports
Easy to Install. Great solution for you to use your electronics on desktop and to charge multiple devices at the same time. 2 easy ways to attach power strip on desk. Hardware accessories with two options (A and B) for installation. High quality metal and plastic construction guarantee a strong and secure attachment.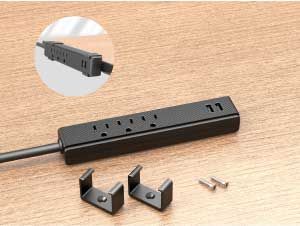 Clamp Mount Kit includes U-type clamp x 2 pcs and mounting screw x 2 pcs
This removable clamp mount power strip is easy to install and makes it simple to create user-friendly areas in your space. First adjust the distance between the 2 U-type clamps. Screw the 2 U-type clamps to the proper location on desk surface/edge by using the 2 mounting screws. Slide the power strip onto the 2 U-type clamps.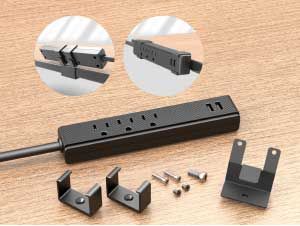 In addition to the above-mentioned Clamp Mount Kit, it also includes the Desk Clamp Kit (clamp holder x 1 pc, clamping screw x 1 pc and short mounting screw x 2 pcs).
Another way to attach this power strip to most desks and other flat surfaces by using the Desk Clamp Kit. No need to punch holes in the desk. Screw tighten the 2 U-type clamps to the holder by using the 2 short mounting screws. Choose desk and secure the holder to the proper location with the clamping screw. Tighten the clamping screw. Slide the power strip onto the 2 U-type clamps.
Features
Space-saving design
Compact size makes it easier to carry or place on desk
Widely used in office, home, hotel etc
Small and lightweight for travel
Ideal for multiple devices charging at the same time
USB ports offer fast charging for USB devices
Easily clamp to desk for better accessibility to plugs
No more hard to reach outlets
Optional mounting clamp kit
Specification
Electrical Rating 15A/125V
3 AC Grounded Outlets
Built-in Surge Protection
USB Power Indicator
2 USB Ports with 2.4A (Shared) Charging Power
Power Cord with NEMA 5-15P Plug
Model
CA-310 Series
CA-310
CA-310-U
CA-310-U-F
Power Rating
15A 125VAC
YES
YES
YES
AC Outlet
NEMA 5-15R
3
3
3
USB Output
5V DC, 2.4A (Total)
-
YES
YES
DC Outlet Type
Type A, 2 Ports
-
YES
YES
Surge Protection
-
-
YES
YES
Indicator
USB Power - Green
-
YES
YES
Power Cord
SJT 14AWG/3C, 5-15P
YES
YES
YES
Clamp Mount Kit
U Type Clampx2, Screwx2
YES
YES
YES
Desk Clamp Kit
Holder x 1, Screw x 3
-
-
YES
Related Products

---

Files Download

---