UV Wand Sanitizer
SGS Certified 10sec. Disinfection, UVC Light Wand Kills Germs & Bacteria Effectively, 99% Sterilization Rate.
A powerful and portable UV wand sterilizer that kills 99% of bacteria and microorganisms without leaving behind any chemical residues in the process. High sterilization efficiency is laboratory-proven and is superior to the traditional way of disinfection.
---
Person-to-person spread often happens between close contacts. Disinfection of dirty surfaces is a positive measure for prevention of illness. This UV-C LED sanitizer light uses high performance technology to directly destroy DNA structures of germs. It can be used on surfaces like elevator button, ATM button, door knob, toilet seat, faucet, microphone, food contact, etc. It is also the perfect solution to keep your personal items away from any germs all around you, and to sanitize your belongings with convenience and ease. It is flexible to be used as a cleaner for mask, smartphone, key, jewelry, makeup items, pacifier, kids toy, etc.

UVC LED technology, which is UV-C light in wavelength between 260nm and 280nm that damages the very DNA or RNA of microorganisms such as bacteria/viruses/mites and kills off germs in a matter of minutes to achieve the effect of sterilization for health.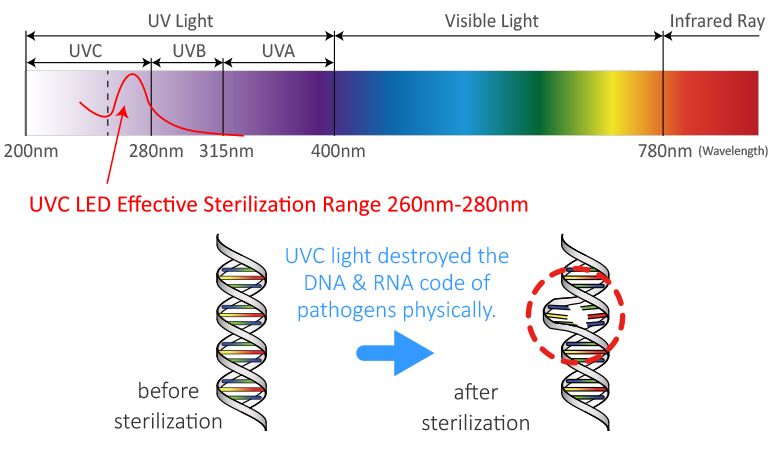 With USB charging port, this cleaner can be recharged by laptop, power bank, power adapter etc. With high capacity battery and long lasting light, UVC LED is safe and durable, the lamp beads can be used above 15000 hours. Strong sterilization and powerful scanning up to 60000 times.

Compact size, light weight and easy to carry. More simple, more convenient and more effective.
UVC Effective Sterilization is Approved by 3rd Party Lab Testing & Clinically Proven Results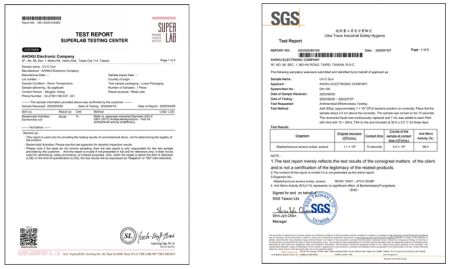 DH-100
SGS certified UVC ultraviolet sterilizer can be used to disinfect daily necessities and also...
Details
DH-200
Germs don't just live in public spaces. People are more likely to be infected with the disease...
Details
Travel Catalog
Download latest catalog of Travel Adapter series.
Download
UV Wand Sanitizer - SGS Certified 10sec. Disinfection, UVC Light Wand Kills Germs & Bacteria Effectively, 99% Sterilization Rate. | Taiwan-Based Supplier of AC Power Surge Protector, Universal Travel Adapter, Converter, USB Charger, Rack mount PDU | AHOKU Electronic Company
Located in Taiwan since 1983, AHOKU Electronic Company has been a manufacturer of electronic products and parts. Their main OEM / ODM products include, UV Wand Sanitizer, smart eco PDUs, universal travel adapters, converters, USB chargers, surge protections and power strips, which meet high QC, IQC, IPQC, QA, AQL, ISO, FMEA, CPK and RoHS standards.
AHOKU has a specialized hardware and software R&D team, core technologies, and extensive experience in the design and manufacture of power-related products. Our high level of vertical integration and one-stop manufacturing capabilities, from design, structure, circuitry, firmware, software, APP development to flexible production and manufacturing systems, provide our well-known clients with products that meet international safety regulations and high quality requirements. Over 35 years of trusted OEM & ODM experience in providing products that meet the needs of power management applications in various fields such as industrial, communication, automotive, and consumer markets.
AHOKU has been offering customers safe and high-quality universal travel adapters, converters, USB chargers and rack mount PDUs, both with advanced technology and 35 years of experience, AHOKU ensures each customer's demands are met.