World Travel USB Adapter
USB POWER ADAPTER PLUG, USB WORLD ADAPTER, ALL IN ONE TRAVEL PLUG WITH USB CHARGING PORTS
Universal Travel Adapter with USB charging ports is a smart, compact and total solution to your power connectivity problems around the world.
The 2-pole or 3-pole Adapter comes with 4 plugs US/EU/UK/AU with shuttered universal AC outlet and USB charger, providing you a simple and safe way to connect your portable appliances to the electrical outlets in more than 195 countries.
No more separate chargers with you but simply a multiple travel adapters wherever you go. This is also perfect for travelers from all over the world who need the USB charging, high power is suitable for laptops or hair dryers, less power is compatible with smart phones, tablets, Cameras etc..
All-in-one Travel Adapter integrates USB-C PD & QC 3.0, supporting power up to 30W fast charging. Equipped with high power up to 10A rated and multiple 5 USB ports are perfect power solution, it allows consumers to use 6 devices or appliances simultaneously, perfectly for traveling or working in groups. Use branded PC fire retardant material and nickel brass to make product in a good conduction and long lifetime.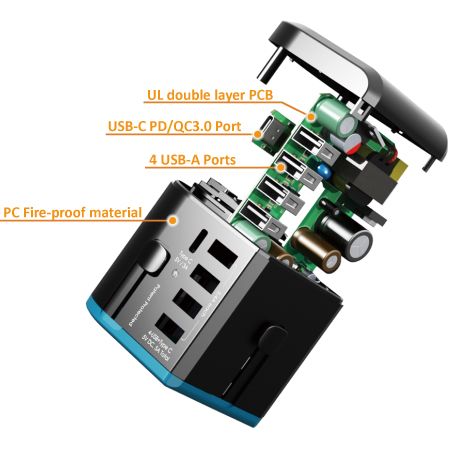 Patented design with invention patents, utility patents and design patents are our core value to protect the property right as an inventor or manufacturer.
World Power Travel Adapter is also designed with SCP, OCP, OVP, OTP protection systems to offer the upmost safe and qualified level in all USB adapter series.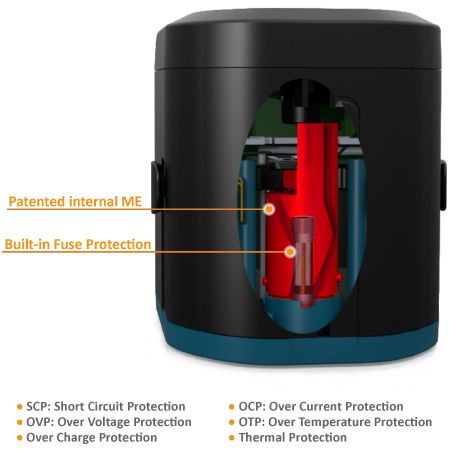 We are experienced in industrial manufacturing of USB travel adaptor and are the O2O, OMO vendor, retail and wholesale supplier on OEM/ODM basis for customized design, specification, color and package more than 30 years, who is enjoy an excellent reputation for its stable quality and reliable relationship and partnership with customers. Ahoku is also an UL and TUV verified factory and is experienced in working with major laboratories for years e.g. UL, TUV, Intertek, SGS etc., all products are requested to be tested by 3000V Hi-Pot test, High/Low Temperature test, Burn-in test, ESD test, Rubbing test and other reliability tests in our in-house lab., of course, international standards of FCC, CE, RoHS, WEEE, Prop 65 safety system as well as DoE/CoC Energy Efficiency Level are required to be met and ensure 100% production quality as a qualified manufacturer and reliable vendor.
MOQ 1K with customized packaging, specific product color and logo printing are welcome to order as per requirement.
---