---
Italian/Chile Long strip 8 Outlets Extension Cable Surge Power
CA-I802
8 outlets surge protector is an effective way to safeguard your electronic equipments from power surges and spikes. It provides premium power protection for up to 8 devices. Made from durable fire-resistant material, heavy-duty power cable and high quality components. It includes normal mode (H-N) and common mode (N-G / H-G) suppression. EMI / RFI noise filter for better performance of protected equipments is optional. These sockets have built in safety shutters to protect children from accessing to the live parts. Keyhole mounting slots on the back allow you to easily secure the surge protector to walls, baseboards or furniture. Ahoku Surge Protector is ideal for computer rooms, libraries and other places requiring a lot of electronic devices.
Surge Strip, Extension Socket, Power Strip Bar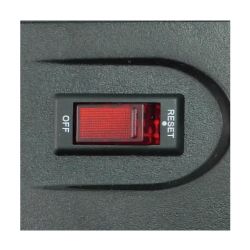 Switch with Circuit Breaker Power Strip
Rocker switch overload protector Circuit Breaker the safety design,10A250Vac rated rocker switch and thermal trip circuit breaker within the housing allowing on off switching and circuit protection. Once output power is over loading and beyond limitation, over-current protection function can cut off power automatically. The circuit breaker will trip and cut power to prevent electrical hazards, fire and possible electrocution. The design is able to prevent and decrease the damage that cause by over-current to make environment be safer.
Features
Protects valuable equipments from power surges and spikes.
Outlets with safety shutters prevent children from sticking objects into receptacle slots.
Rear wall-mount key holes for easy installation.
Ideal for home, office and workstations.
Specification
Power Rating: 10A, 250VAC
8 Italy Surge-Protected Socket Outlets.
Power Switch.
Surge Protection Working Indicator.
Optional EMI / RFI Noise Filtering.
H05VV-F 1.0mm² 3G Power Cord.
Safety and Compliance: CE, RoHS & REACH
Model
CA-I802 SERIES
A1
A2
A3
Power Rating
10A 250VAC
YES
YES
YES
AC Outlet
Italy Type
8
8
8
Power Switch
YES
YES
YES
Surge Protection
L-N
YES
-
-
L-N-G
-
YES
-
L-N-G + Noise Filter
-
-
YES
Indicator
Surge-Green
YES
YES
YES
Power Cord
H05VV-F, 1.0mm², 3G
YES
YES
YES
Related Products

CA-I800

---

Italian surge protector has two outlet types rated at 10 and 16A that comprises of Italian origin and Schuko. It provides premium power protection for up to 8 electrical devices at once. And it is specially designed to offer electrical protection to valuable equipment. Durable fire-resistant material, heavy-duty power cable, high quality components and superior circuitry are used to provide the most complete protection. All components confirm to current RoHS, Reach and CE requirements. Featuring EMI/RFI noise filter protects against outside interference. Gift box, clamshell and other packaging can be selected. MOQ is flexible depending on the product or project. We combine 30 years of expertise and passion for innovation and provide complete OEM/ODM service. With the creativity, capability, experience and R&D resources, we can turn an idea all the way through to production. Iso-certified factory offers standard operating procedure and strict quality control to consistently provide products and services that meet customers' requirements.

---

CA-I801

---

With built-in overload protection, this Italian 8-outlet surge protector will cut off power automatically to safeguard your appliances from spike, fire and power surge when overload occurs. Product features a simple and compact design. It includes a master switch to turn all devices on and off, and it also provides surge suppression for phone lines and TV coaxial cables. This series includes full normal mode (H-N) and common mode (N-G / H-G) suppression, and also includes EMI/RFI noise filtering for clean power. Gift box, clamshell and other packaging can be selected. MOQ is flexible depending on the product or project. All components confirm to current RoHS, Reach and CE requirements. With the creativity, capability, experience and R&D resources, we can turn an idea all the way through to production. Iso-certified factory offers standard operating procedure and strict quality control to consistently provide products and services that meet customers' requirements. Complete OEM/ODM service will be provided with combining 30 years of expertise and passion for innovation.

---

CA-I807

---

The rack mount power strip is a dependable and cost-effective way to deliver power to multiple loads in the equipment racks and cabinets. This range of power distribution unit has a plastic enclosure and is complete with 8 Italian outlets. With the surge protection and circuit breaker, this CE-certified PDU offers quality, performance and security. Featuring a 90 degree cord retainer offers flexibility in positioning the device and in organizing the power cord. These attractive models can be mounted vertically or horizontally and comes in varying sizes and configurations. Ahoku designs and manufactures high performance products connecting and protecting the most sensitive equipments. And we provide the most suitable products and services at the most suitable prices for customers' specific business needs. CA-I807 series is manufactured in compliance with RoHS and REACH requirements, reflecting Ahoku's commitment to help the environment. OEM and ODM services can be offered to perfectly suited to fit customers' needs. To meet different needs, various power types, vertical or horizontal styles, specific plugs and sockets, plastic or higher quality aluminum housing cases and wide range of rackmount height are available.

---

---

Files Download

---

Italian 8 Outlets 33&deg Angle with Safey Shutters Extension 10A/250VAC, AC Power Strip Surge Protector

---

---