---
8 Schuko Outlets Foldable Power Strip with Multiple Protection
CA-G805
Foldable outlet surge strip packs 8 outlets in its compact footprint and provides premium power protection for up to 8 devices. It is an effective way to safeguard your electronic equipments from power surges and spikes. 2 wide-spaced outlets meet your needs for requiring big chargers plugged in. Multiple layers of protection will also guard against power surges coming through your coaxial TV cable and telephone/DSL lines.
Made from durable fire-resistant material, heavy-duty power cable and high quality components. It includes normal mode (H-N) and common mode (N-G/H-G) suppression. EMI/RFI noise filter for better performance of protected equipments is optional. These sockets have built in safety shutters to protect children from accessing to the live parts.
Ideal for computer rooms, libraries and other places requiring a lot of electronic devices.
Europe (Schuko) 8 AC Socket Foldable Corner Fit Design, EMI/RFI Filter, AC Surge Protector, Telephone & TV/Antenna Surge Protector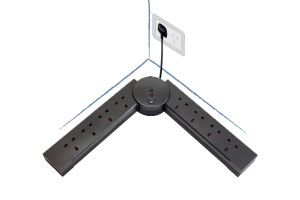 Design of 8 socket surge protector for foldable smart power supply board
Patented foldable shell design, CA-G805 series the socket body can be folded 90 degrees, which increases the convenience and flexibility of use; this is different from the general market which only has a square and rectangle appearance. The patented foldable 90-degree special mechanism design combines a square and rectangle appearance. It can be placed in the corner of the wall or in the corner of the office desk or table, so that the power cord of the equipment used will not be entangled and messy, and the living environment is more tidy and safe. There are two sockets with widened spacing to meet the needs of electronic equipment products that need to insert a larger transformer. In addition, there are up to 8 product receptacles, which are very suitable for use in computer rooms, workstations, home entertainment centers, and places that require a lot of electronic equipment. This series of products also have the option of phone and coaxial line protection and USB charging protection design, so that precious equipment can be fully protected with safety and high efficiency.
Features
Protects valuable equipments from power surges and spikes.
Outlets with safety shutters prevent children from sticking objects into receptacle slots.
Rear wall-mount key holes for easy installation.
Ideal for home, office and workstations.
Specification
Power Rating : 16A, 250VAC
8 Schuko Surge-Protected Socket Outlets
Power Switch
Surge Protection Working Indicator
Optional EMI/RFI Noise Filtering
H05VV-F 1.5mm2 3G Power Cord
Safety and Compliance : CE, RoHS & REACH
Model
CA-G805 SERIES
A1
A2
A3
Power Rating
16A 250VAC
YES
YES
YES
AC Outlet
Schuko Type
8
8
8
Power Switch
YES
YES
YES
Surge Protection
L-N
YES
-
-
L-N-G
-
YES
-
L-N-G + Noise Filter
-
-
YES
Indicator
Surge-Green
YES
YES
YES
DC Protection
Coaxial Cable & Phone Line
OPTIONAL
OPTIONAL
OPTIONAL
Power Cord
H05VV-F, 1.5mm², 3G
YES
YES
YES
Related Products

---

Files Download

---

German (DIN) 8 Outlets Rack-Mount Surge Protector

---

---