---
360 Rotatable of UK Plug AC Power Cord
AP-007
360° handy plug and angle free non-rewirable 13A fused plug is equipped with international patent protection. The most convenient unplugged rotatable plug manufactured based on the requirement of BS-1363 standard, that dimension precisely meet the regulation. UK type with swivel function plug is suitable for England, Hong Kong & Singapore outlets. We are able to provide massive customized production and different length or color available to match a variety of devices. In the meanwhile, we are confident in the quality of our products to guarantee all rotatable plugs with the accurate specifications.

Roto plug pair up H05VVF-3G 1.0 mm²; / 1.25 mm²; / 1.50 mm² for option; and 13A under 240VAC. That is with 3 bare stranded copper conductor cords and color-coded PVC insulation and jacket which meet power cable requirement.
No more tangled AC Euro plug
Plug In,Roto Plug In,Electrical Power Plug In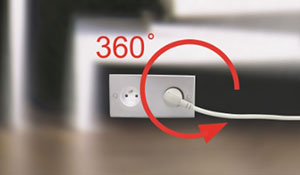 The effortless ring-pull 360° free rotation UK plug
This effortless ring-pull free-rotating plug is very suitable for home appliance manufacturers and equipment manufacturers to put this unique UK plug in product, it has more Humanized design concept to create a high valued and special feature in equipment as well. The effortless ring-pull UK plug is compliance with BS-1363A safety standard for matching UK power cord as a diameter of 1.0mmsq /1.25mmsq/1.5mmsq for rating 13A 240VAC electronic and electrical equipment. To equip the Electronics and Electrical equipment with effortless ring-pull UK plug 360° freely rotating plug is easy to organize the power cord much more convenience to make the environment safer. The unique of ring-pull design allows users to pull out the plug more easily and effortlessly.
Specification
Type: UK Plug
Rating: 13A, 250VAC
360° Roto Plug Can Be Rotated To Different Direction for Easy Usage.
Patent Protected.
Different Colors Available.
1.0mm / 1.25mm / 1.50mm Power Cable for Option.
Model No.
AP-006
AP-007
AP-008
Power Rating
13A 250Vac
Plug Type
UK PLUG
Power Cord
H05VVF-3G
Wire
1.0mm² / 1.25mm² / 1.50mm²
Related Products

AP-006

---

Compact and convenient concept of rotatable plug is compliance with BS-1363 standard dimension and with fuse inside for user safety concern. The hole design is also for easy unplug that is suitable in UK, Hong Kong & Singapore outlets. We are able to provide massive customized production with different length and color available to match a variety of devices. In the meanwhile, we are confident in the quality of our products to guarantee all rotatable plugs with the accurate specifications.Roto plug pair up H05VVF-3G 1.0 mm²; / 1.25 mm²; / 1.50 mm²; and for 13A under 250VAC. That is with 3 bare stranded copper conductor cords and color-coded PVC insulation and jacket which meet power cable requirement.

---

AP-008

---

Compact, smart and convenient concept for effort-saving idea when withdraw the plug by one hand. The non-rewirable 13A fused plug is equipped with international patent protection. The most convenient unplugged plug manufactured based on the requirement of BS-1363 standard, that dimension precisely meet the regulation. UK type with swivel function plug is suitable for England, Hong Kong & Singapore outlets. We are able to provide massive customized production and different length or color available to match a variety of devices. In the meanwhile, we are confident in the quality of our products to guarantee all rotatable plugs with the accurate specifications.The easy plug pair up H05VVF-3G 1.0 mm²; / 1.25 mm²; / 1.50 mm² for option; and 13A under 240VAC. That is with 3 bare stranded copper conductor cords and color-coded PVC insulation and jacket which meet power cable requirement.

---

---

Files Download

---

360° of 13A UK BS1363 Plug AP-007 can be rotated to different direction for easy usage and for 250VAC rating.

---

---