---
(10) NEMA 5-20 1U 19" Cabinet Power Strip
PD-1020
1U NEMA AC Server Rack Mount Power Strip are available in a variety of Surge Protections, Combo Circuit Breaker Switch or Ampere Meter configurations. Perfectly suited for IT environment and with UL/cUL approval for safety assuring, PDU configurations include 19" horizontals with sockets in the front and real sides. Mental Power Distribution Unit for rack mount is able to be customized in different cord length in power supply device. We are confident in the quality of our products to guarantee all Cabinet Power Bar with the accurate specifications and meet safety requirement.

10 outlet PDU features 20A circuit breaker and LED in the front to read the PDU situation easy or act circuit breaker. The 8 NEMA 5-20R outlets in the rear and 2 outlets in the front distribute power to IT equipments such as server, data center, hosting and so on. 19" Rack Power Strip is with NEMA 5-20P input plug or L5-20P and long 6-foot (1.8 m) cord connects to your facility's compatible with power source, UPS or generator.
19" 1U Cabinet Rack Mount PDU
Rackmount Surge Protector, Power Strip PDU, Server Rack PDU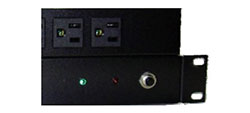 AC power line surge protector. Protect high-tech electronic devices from damage caused by dangerous spikes/surges that coming from AC power line.
Features
Consolidated interface for data center management by metal housing.
Meet 1U (44.45mm) standard to ideally install in the rack.
Able to install of the PD-1020 series horizontal, vertical, under counter, wall mount and allow to reversible.
The Box Contents: PDU Mounted Horizontal Brackets, User Manual, Screw Kit, Vertical Mounting Brackets
Specification
Power Rating: 20A (Derated to 16A), 120VAC
Outlet: NEMA 5-20R x 10
Power Cord: SJT, 12AWG x 3C, 5-20P (or L5-20P), 6FT
Model
PD-102001
PD-102002
A0
A1
A2
A3
A0M1
A0
A1
A2
A3
A0M1
Power Rating
20A (Derated to 16A) 120VAC
YES
YES
YES
YES
YES
YES
YES
YES
YES
YES
AC Outlet NEMA 5-20R
Front
2
2
2
2
2
2
2
2
2
2
Rear
8
8
8
8
8
8
8
8
8
8
Circuit Breaker
YES
YES
YES
YES
YES
YES
YES
YES
YES
YES
Surge Protection
N/A
YES
-
-
-
YES
YES
-
-
-
YES
L-N
-
YES
-
-
-
-
YES
-
-
-
L-N-G
-
-
YES
-
-
-
-
YES
-
-
L-N-G + Noise Filter
-
-
-
YES
-
-
-
-
YES
-
Indicator
Power-Red
YES
YES
YES
YES
YES
YES
YES
YES
YES
YES
Surge-Green
-
YES
YES
YES
-
-
YES
YES
YES
-
Power Cord 12AWG
5-20P
(01)
YES
YES
YES
YES
YES
-
-
-
-
-
L5-20P
(02)
-
-
-
-
-
YES
YES
YES
YES
YES
Amp Meter
-
-
-
-
YES
-
-
-
-
YES
Gallery

Related Products

---

Files Download

---

5-20R 20A power outlets 1U PDU Metal case have 10 socket connects to your facility's compatible with power source, UPS or generator.

---

---