---
Smiley Wireless Charger with Magnetic 15W, Ultra Slim
WP-003
An user-interaction smiley and slim design adds a high-tech sophistication to your desk, while the matt charging surface prevents your devices from easily sliding off.
It perfectly provides faster wireless charging up to 15W. The charger maintains compatibility with Qi charging, supporting iOS and Android to achieve the intelligent identification of charging power, so it can be used to wirelessly charge your smartphones as well as AirPods models with a wireless charging case, offering you a better and safer charging experience.
 
The wireless charger is a Type C port, intelligent protection technology provides over current protection, overheat protection, over-voltage protection, short-circuit protection, and FOD. Welcome ODM/OEM with customized design, specification, color, and packaging.
QC wireless charger
QC Wireless charger, Qi-Certified Fast charge with smile lightening, PD/QC Ultra-Slim Wireless Charger, Universally Compatible with Qi enabled, Ultra-Slim Wireless Charger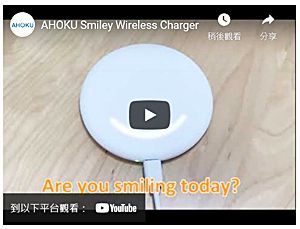 AHOKU Smiley Wireless Charger
Are you smiling today? The world first one user-interaction smiley 15W fast wireless charger adds a high-tech interest to our daily life. A smiling feedback response when charging start also reflects a smiling face while charging end. Let's pressure released just starts from portable smiley wireless charger : )
Features
Compatible with all Qi-enabled devices including: iPhone 13, iPhone 11/12 Pro/12 Pro Max/XS/XS.
Compatible with MagSafe Magnetic Charging.
Provides faster wireless charging up to 15W.
OVP, OCP, SCP, FOD protections.
Lightweight, compact and portable.
Interesting smile feedback.
Specification
DC Input: 5V / 2A , 9V / 1.67A , 12V / 1.5A
Output: 5W / 7.5W / 10W / 15W (QC 3.0)
WPC Qi V1.2.4
Efficiency is up to 75%
Model No.
WP-003
Power Rating
DC Input: 5V / 2A , 9V / 1.67A , 12V / 1.5A
Wireless Output:5W / 7.5W / 10W / 15W (QC 3.0)
Power in Connector
USB-C
Working Frequency
110-205KHZ
Smart LED Indicator
Standby-Green light on / Charging-Green light flashing Abnormal(FOD)-Orange light flashing
Smile Light
Charging start & end
Wireless Standards
WPC Qi V1.2.4
Built-in Protection
Short-Circuit/Over Current/Over Temperature Protection
Efficiency
UP TO 75%
Transmitting Distance
3mm
Size
Φ90mm x 9.5mm
Weight
68.4 g
Approval
FCC,CE, RoHS
Related Products

WP-001

---

Built-in 2 coils, much wider charging area offer you in a better efficiency way than the general round wireless charging pad. It provides 1.4 times quick charging than other standard Qi chargers. With paired charging indicator, so users can clearly understand the status of the device. The WP-001 has overload protection, short circuit protection, foreign object detection, and other security features to prevent the overheating hazard caused by the charging unwanted metal object. WP-001 can be applied to any products which meet the Qi wireless charging standard.Charge vertically or horizontally, keeping watching videos or tracking of messages. It's compact size L135 x W73.5 x H9.2mm, weight is only 79.2g.

---

WP-002

---

Magnetic wireless charger perfectly snaps and centers to the charging coil on the back of smart phones and secures wireless charging. It is the perfectly aligned magnets that attach to your magnetic devices and provides faster wireless charging up to 15W. The charger maintains compatibility with Qi charging, QC and PD protocol, supporting iOS and Android to achieve the intelligent identification of charging power, so it can be used to wirelessly charge your magsafe smart phones as well as AirPods models with a wireless charging case, offering you a better and safer charging experience.Wireless charger is integrated 1M USB-C cable, intelligent protection technology provides over current protection, overheat protection, over voltage protection, short-circuit protection and FOD. Compact size is 58 x 6.5mm in weight of 48g. Welcome ODM/OEM with customized design, specification, color and packaging.

---

WP-F601U-D21

---

Through the WP-F601U-D21 wireless charging pad, we can simply charge smart phone or mobile device in 2100mA maximum without power cable. With paired charging indicator, so users can clearly understand the status of the device. The WP-F601U-D21 has overload protection, short circuit protection, foreign object detection and other security features to prevent the overheating hazard caused by the charging unwanted metal object. WP-F601U-D21 can be applied to any products which meet the Qi wireless charging standard.WP-F601U-D21 is compatible with the WPC's Qi standard to charge any Qi-compatible device. Ahoku WP-F601U-D21 is not just a wireless charging pad but also with 6AC power strip. It provides premium power protection for up to 6 devices. Made from durable fire-resistant material, heavy-duty power cable and high quality components. It includes normal mode (H-N) and common mode (N-G / H-G) suppression. EMI / RFI noise filter for better performance of protected equipments is optional. These sockets have built in safety shutters to protect children from accessing to the live parts. Keyhole mounting slots on the back allow you to easily secure the surge protector to walls, baseboards or furniture. Ahoku Surge Protector is ideal for computer rooms, libraries and other places requiring a lot of electronic devices.

---

---

Files Download

---

QC Wireless charger, Qi-Certified Fast charge with smile lightening, PD/QC Ultra-Slim Wireless Charger, Universally Compatible with Qi enabled, Ultra-Slim Wireless Charger

---

---