---
Portable UVC Sterilizer
DH-200
Germs don't just live in public spaces. People are more likely to be infected with the disease from the everyday items, personal necessities, digital products, office supplies, tableware and more at any time.
Ultraviolet light has been proven effective against microbial spread and infection. Portable UVC Sanitizer employing the most powerful UVC LEDs that can annihilate the threat of bacteria, viruses, and microorganisms found on the items. With the 99% sterilizing rate, it can keep your place or the things you use as clean as possible, especially if you have kids or pets around the house. It is powered by micro USB and designed to be handheld and with portable stand.
Handheld UV Wand comes with an automatic power shut off function. For extra layer of safety, it is equipped with a smart feature preventing kids from accidentally turning on the device. Lightweight and easy-to-use. Easily fits in your pocket for portability. People can comfortably take it everywhere they go.
99% Germs Killer, UV Light Wand Sanitizer, UVC Light Wand, Ultravolet Wand, Portable UV Sanitizer, UV Disinfection Wand
video
Fitted with high-grade UVC light, cordless, powerful, and well-sized UVC handheld sterilizer wand kills up to 99% germs. Cleaning everything thoroughly every day. Safe to use everywhere.
Features
Kills 99% of bacteria.
Fast and easy disinfection.
Automatic power shut off function.
Child accidental turn-on protection.
Compact design and USB-powered.
Travel size and easy to store.
Fits to pocket and take it anywhere.
Non-toxic and harmless.
Healthy and environmentally friendly.
Widely used in homes and public places.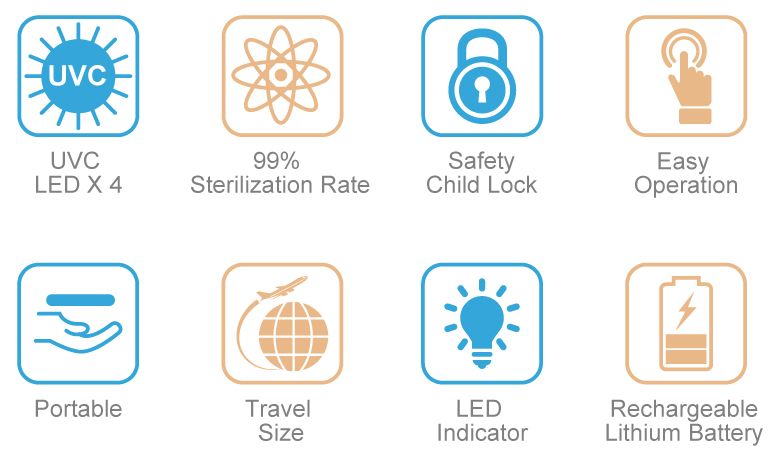 Two Ways to Use Portable UVC Sterilizer

Handheld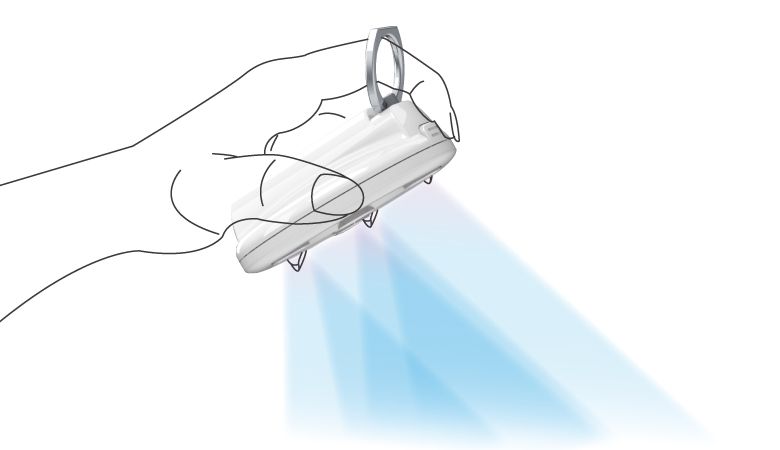 Using Detachable Stand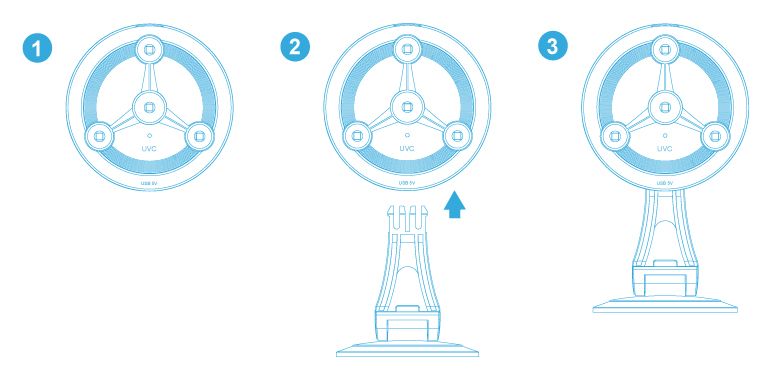 Specification
Charge Power : USB 5VDC
Battery : Lithium Battery 1200mAh
LED Beads : UVC/UVA Dual Chips x 4 pcs
UVC Power : 40mW
Ultraviolet Wavelength : 260nm-280nm
LED Life : 15000 hrs
Product Size : Round Main Body 8.3 (D) x 3.4 (H) cm
| Specification | DH-200 |
| --- | --- |
| Charge Power | USB 5VDC |
| Battery | Lithium Battery 1200mAh |
| LED Beads | UVC/UVA Dual Chips x 4 pcs |
| UVC Power | 40mW |
| Ultraviolet Wavelength | 260nm-280nm |
| LED Life | 15000 hrs |
| Product Size | Round Main Body 8.3 (D) x 3.4 (H) cm |
Gallery

Related Products

DH-100

---

SGS certified UVC ultraviolet sterilizer can be used to disinfect daily necessities and also can be used to scan any place you need to clean up. A powerful UVC light wand kills 99% of bacteria and microorganisms without leaving behind any chemical residues in the process. High sterilization efficiency is laboratory-proven and is superior to the traditional way of disinfection.It is the perfect solution to keep your personal items away from any germs all around you and sanitize your belongings with convenience and ease. UV wand sanitizer is flexible to be used as a cleaner for mask, pacifier, kids toy, smartphone, key, jewelry, makeup tools, etc. It can also be used on surfaces like elevator button, ATM button, door knob, toilet seat, faucet, microphone, food contact, etc.USB charging port design, this cleaner can be recharged by laptop, power bank, power adapter etc. High capacity battery and long lasting light. High quality UV-C+UV-A dual chips LED beads are packed with high-purity crystal to ensure high transmittance.Compact size, light weight and easy to carry. More simple, more convenient and more effective.

---

---

Files Download

---