---
Franch Power Strip 6 Socket Surge Charging Ports Shape
CA-F612
Power strip surge Protector offers you an effective way to protect your electronic equipments from damaging power transients. Durable fire-resistant material, heavy-duty power cable, effective components and superior circuitry are used to provide the most complete protection. Donut shape provides more space than a regular power strip. Wide-spaced outlets allow transformers to be plugged into the power strip without blocking other outlets. Extra space allows cable to come in and out. Rubber feet prevent the unit from slipping.
MOQ is flexible depending on the product or project. We also specialize in OEM/ODM service, including product design, mechanical engineering, prototyping, batch manufacturing both large and small, worldwide delivery and after-shipment support. With the creativity, capability, experience and R&D resources, we can turn an idea all the way through to production. Iso-certified factory offers standard operating procedure and strict quality control to consistently provide products and services that meet customers' requirements.
France 6 AC Outlet-Donut Space Saving Design,16A/250V, have Extra space can cords collection and main cord goes out
Surge Strip, Extension Socket, Power Strip Bar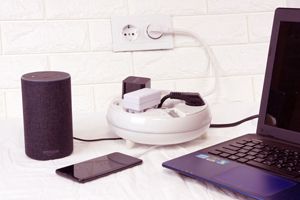 Donut cable disc type 6-hole power protection socket
The CA-F612 is a hollow, disc-shaped outlet that can store power cords. The CA-F612 disc-shaped outlet resembles a doughnut and can be equipped with a variety of colors to complement your living environment. The CA-F612 has 6 separate outlets with extended spacing to accommodate European/French style plugs and plugs for larger transformers and electronic devices. It is very suitable for the studio, home entertainment center ... etc. in need of more flexible use of electronic equipment where. Welcome brands, importers OEM/ODM together with the development and production.
Features
Protects valuable equipments from power surges and spikes.
Outlets with safety shutters prevent children from sticking objects into receptacle slots.
Rubber feet help prevent slips.
Ideal for home, office and workstations.
Specification
Power Rating: 16A, 250VAC
6 France Surge-Protected Socket Outlets.
Power Indicator.
Surge Protection Working Indicator.
On / Off Rocker Switch.
Optional EMI / RFI Noise Filtering.
H05VV-F 1.5mm² 3G Power Cord.
Safety and Compliance: CE, RoHS & REACH
Model
CA-F612 SERIES
A1
A2
A3
Power Rating
16A 250VAC
YES
YES
YES
AC Outlet
French Type
6
6
6
On / Off Rocker Switch
YES
YES
YES
Surge Protection
L-N
YES
-
-
L-N-G
-
YES
-
L-N-G + Noise Filter
-
-
YES
Indicator
Power-Red
YES
YES
YES
Surge-Green
YES
YES
YES
Power Cord
H05VV-F, 1.5mm², 3G
YES
YES
YES
Related Products

---

Files Download

---

French 6 Outlets Extension AC Power Strip Surge Protector , 16A/250VAC With Safety Shutters

---

---