---
8 Outlets Foldable Power Strip With TV & Tel Protection
CA-U806
Protect your sensitive electronic devices from power surges and spikes with the 8 outlets surge protector. This surge suppressor featuring eight surge-protected outlets is an ideal solution for applications or locations that require power to many devices. With a foldable design, this power strip can go around corners and fit tight spaces.

Made from fire-resistant material, heavy-duty power cable, and high quality components. This surge protector includes normal mode (H-N) and common mode (N-G / H-G) suppression. EMI / RFI noise filter for better performance of protected equipments is optional. These sockets have built in sliding safety covers to protect children from accessing to the live parts. Unique design is ideal for the desk, conference table, office, home and other places requiring a lot of electronic devices.
Surge Strip, Extension Socket, Power Strip Bar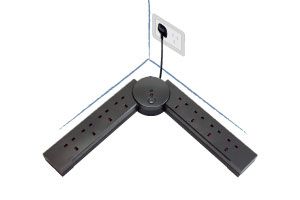 Design of 8 socket surge protector for foldable smart power supply board
Patented foldable shell design,CA-U806 series the socket body can be folded 90 degrees, which increases the convenience and flexibility of use; this is different from the general market which only has a square and rectangle appearance. The patented foldable 90-degree special mechanism design combines a square and rectangle appearance. It can be placed in the corner of the wall or in the corner of the office desk or table, so that the power cord of the equipment used will not be entangled and messy, and the living environment is more tidy and safe. There are two sockets with widened spacing to meet the needs of electronic equipment products that need to insert a larger transformer. In addition, there are up to 8 product receptacles, which are very suitable for use in computer rooms, workstations, home entertainment centers, and places that require a lot of electronic equipment. This series of products also have the option of phone and coaxial line protection and USB charging protection design, so that precious equipment can be fully protected with safety and high efficiency.
Features
Protects valuable equipments from power surge and spike.
Outlets with safety shutters prevent children from sticking objects into receptacle slots.
Flexible design.
Ideal for home, office and workstations.
Specification
Power Rating: 13A, 250VAC
8 UK Surge-Protected Socket Outlets.
Power Indicator.
Surge Protection Working Indicator.
Push Button Switch.
Optional EMI / RFI Noise Filtering.
H05VV-F 1.5mm² 3G Power Cord.
Safety and Compliance: CE, RoHS & REACH
Model
CA-U806 SERIES
A1
A2
A3
Power Rating
16A 250VAC
YES
YES
YES
AC Outlet
British Type
8
8
8
Power Switch
YES
YES
YES
Surge Protection
L-N
YES
-
-
L-N-G
-
YES
-
L-N-G + Noise Filter
-
-
YES
Indicator
Surge-Green
YES
YES
YES
DC Protection
Coaxial Cable & Phone Line
OPTIONAL
OPTIONAL
OPTIONAL
Power Cord
H05VV-F, 1.5mm², 3G
YES
YES
YES
Related Products

CA-U510

---

Surge protector will help safeguard your electronics from potentially damaging power surges and spikes. It provides premium power protection for up to 5 devices. Made from durable fire-resistant material, heavy-duty power cable and high quality components. It includes normal mode (H-N) and common mode (N-G / H-G) suppression. EMI / RFI noise filter for better performance of protected equipments is optional. These sockets have built in safety shutters to protect children from accessing to the live parts. Keyhole mounting slots on the back allow you to easily secure the surge protector to walls, baseboards or furniture. Ahoku Surge Protector is ideal for computer rooms, libraries and other places requiring a lot of electronic devices.

---

CA-U608

---

This six-outlet UFO-shaped surge protector is spaced nicely to accommodate large power adaptors, and all outlets have sliding covers to protect children from electric shock and prevent dust entering the sockets. It is perfect for an office desk and hanging from the ceiling.This surge protector provides powerful defense when unexpected surges or strikes occurs. With a fireproof and damage-resistant housing that provides additional assurance, this safety-first power strip includes built-in LED lights that indicate when your devices are protected and your wiring is properly grounded. It also features a power on/off switch that integrates with an overload resettable circuit breaker.

---

CA-U609

---

UFO-shaped design is not only power strip, but also decoration in your home. Surge protector is an effective way to protect your electronic equipments from power surges and spikes. It provides premium power protection for up to 6 devices. Made from durable fire-resistant material, heavy-duty power cable and high quality components. UFO shape provides more space than a regular power strip. Wide-spaced outlets allow transformers to be plugged into the power strip without blocking other outlets. It includes normal mode (H-N) and common mode (N-G / H-G) suppression. EMI / RFI noise filter for better performance of protected equipments is optional. These sockets have built in safety shutters to protect children from accessing to the live parts. Unique design is ideal for the desk, conference table, office or home.

---

---

Files Download

---

UK, Hong Kong 8 Way 13A/230VAC, AC Power Surge Protector With Childen protected and TEL(UK JACK) Line Surge

---

---