---
360&deg Rotatable of Euro Plug AC Power Cord
AP-001
Smart design of 360°; angle free operation to rotate different direction for easy usage by avoiding cord damage from random twist. The design is with international patents protection. Compact and convenient concept of rotatable plug is compliance with Euro standard dimension and passes the strict safety testing. The plug is suitable for German and French outlets. The production is also under precision quality control to ensure customer get accurate product spec.

Roto plug pair up H05VVF-3G 0.75mm²; / 1.0mm²; / 1.50mm²; and for 10A or 16A under 250VAC. That is with 3 bare stranded copper conductor cords and color-coded PVC insulation and jacket which meet power cable requirement.
No more tangled AC Euro plug
Plug In,Roto Plug In,Electrical Power Plug In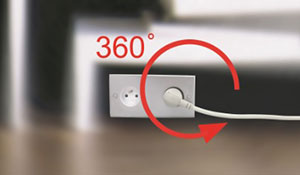 Unobstructed & Intelligent 360° Rotating European Plug
Suitable for any equipment or electronic device and product design which requested a "free direction" to plug-in. German and French type 360° rotating unobstructed intelligent Plug is rating as 10A or 16A 250VAC power cord with 0.75mmsq / 1.0mmsq / 1.5 mmsq to provide users with a 360° all direction. To add the unique 360° rotating plug design in product is very suitable for home appliance manufacturers to increase the high valued function of products creating innovation and new business opportunities.
Specification
Type: Euro Plug
Rating: 10A / 16A, 250VAC
360° Roto Plug can be Rotated to Different Direction for Easy Usage.
Patent Protected.
Different Colors Available.
0.75mm / 1.0mm / 1.50mm Power Cable for Option.
Model No.
AP-001
AP-002
Power Rating
10 / 16A 250Vac
Plug Type
EURO PLUG
Power Cord
H05VVF-3G
Wire
0.75mm² / 1.0mm² / 1.50mm²
Related Products

AP-002

---

360° handy plug and angle free non-rewirable plug is equipped with international patent protection. The most convenient unplugged rotatable plug manufactured based on the requirement of CB standard, that dimension precisely meet the regulation. The roto plug is suitable for Schuko type and French type of Class 0 or Class I sockets. We are able to provide massive customized production and different length or color available to match a variety of devices. In the meanwhile, we are confident in the quality of our products to guarantee all rotatable plugs with the accurate specifications. Roto plug pair up H05VVF-3G 0.75mm²; / 1.0mm²; / 1.50mm²; and for 10A or 16A under 250VAC. That is with 3 bare stranded copper conductor cords and color-coded PVC insulation and jacket which meet power cable requirement.

---

AP-003

---

Compact, smart and convenient concept for effort-saving idea when withdraw the plug. The handy plug is compliance with NEMA 5-15P dimension and meet UL request. This unplugged by one-hand of easy plug is suitable for US, Japanese and Taiwanese outlets. Smart design of one hand operation to withdraw plug possesses with international patents protection to let elders and ladies use easily to unplug from devices. The production is under precision quality control to ensure customer get accurate product specification. Handy plug pair up #14 American wire gauge (AWG). That is with 3 bare stranded copper conductor cords and color-coded PVC insulation and jacket which suitable for indoor small electrical instruments power supply.

---

---

Files Download

---

360° of Euro Plug AP-001 can be rotated to different direction for easy usage and for 10A/16A, 250VAC rating.

---

---